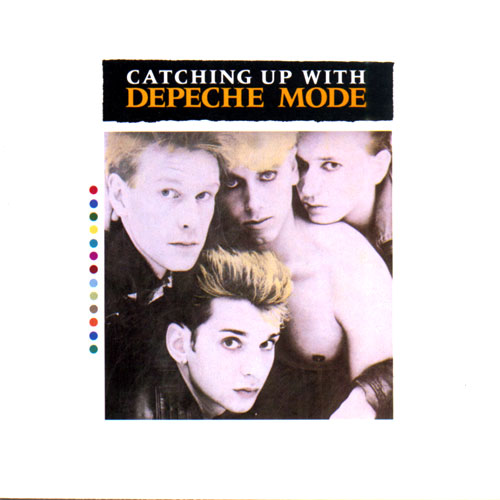 Catching Up With Depeche Mode
Chart Position (USA): 113


US VINYL LP RELEASES
Sire 25346-1
US LP, released November 11th, 1985. This is a commercial release.


Side 1
Dreaming Of Me [3:44]
New Life [3:44]
Just Can't Get Enough [3:36]
See You [3:53]
The Meaning Of Love [3:04]
Love, In Itself [3:55]
Master & Servant [3:50]


Side 2
Blasphemous Rumours [5:04]
Somebody [4:21]
Shake The Disease [4:46]
Flexible [3:09]
It's Called A Heart [3:48]
Fly On The Windscreen [5:05]

US CD RELEASES
Sire 25346-2
US CD, released June 23rd, 1987. This is a commercial release.


Dreaming Of Me
New Life
Just Can't Get Enough
See You
The Meaning Of Love
Love, In Itself
Master & Servant
Blasphemous Rumours
Somebody
Shake The Disease
Flexible
It's Called A Heart
Fly On The Windscreen

US CASSETTE RELEASES
Sire 25346-4
US Cassette, released November 11th, 1985. This is a commercial release.


Side 1
Dreaming Of Me
New Life
Just Can't Get Enough
See You
The Meaning Of Love
Love, In Itself
Master & Servant


Side 2
Blasphemous Rumours
Somebody
Shake The Disease
Flexible
It's Called A Heart
Fly On The Windscreen

Notes:
This album was not released in the United Kingdom. This is the US version of the UK Mute album "The Singles 81-85". Tracks missing on the US release include "Leave In Silence", "Get The Balance Right", "Everything Counts" and "People Are People". Instead, Sire put on a mix of "Fly On The Windscreen" that differs from the version on Black Celebration, and the track "Flexible" (the b side of the "Shake The Disease" single).
All tracks are the single versions, except for "Dreaming Of Me", "New Life" and "Just Can't Get Enough", which are the album versions. For the song "The Meaning Of Love", the Single Version and the Album Version are the same. The track "Somebody" is the Remix, which is the Single Version. The "Love, In Itself" Single Version (which is included here) is called "Love, In Itself 2".

Select an album by clicking on an album cover below...