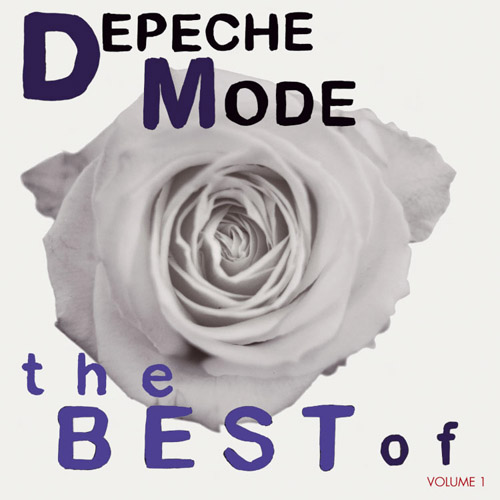 The Best Of Depeche Mode, Volume 1


UK VINYL LP RELEASES
Mute MUTE L15
UK Triple LP, released February 12th, 2007. This is a commercial release.


Side 1
Personal Jesus
Just Can't Get Enough
Everything Counts


Side 2
Enjoy The Silence
Shake The Disease
See You


Side 3
It's No Good
Strangelove
Suffer Well


Side 4
Dream On
People Are People
Martyr


Side 5
Walking In My Shoes
I Feel You
Precious


Side 6
Master And Servant
New Life
Never Let Me Down Again

UK CD RELEASES
Mute CD MUTE L15
UK CD, released November 13th, 2006. This is a commercial release.


Personal Jesus
Just Can't Get Enough
Everything Counts
Enjoy The Silence
Shake The Disease
See You
It's No Good
Strangelove
Suffer Well
Dream On
People Are People
Martyr
Walking In My Shoes
I Feel You
Precious
Master And Servant
New Life
Never Let Me Down Again

Mute LCD MUTE L15
UK Limited CD + DVD Set, released November 13th, 2006. This is a commercial release.


Disc 1 (CD)
Personal Jesus
Just Can't Get Enough
Everything Counts
Enjoy The Silence
Shake The Disease
See You
It's No Good
Strangelove
Suffer Well
Dream On
People Are People
Martyr
Walking In My Shoes
I Feel You
Precious
Master And Servant
New Life
Never Let Me Down Again


Disc 2 (DVD)
Just Can't Get Enough (video)
Everything Counts (video)
People Are People (video)
Master And Servant (video)
Shake The Disease (video)
Stripped (video)
A Question Of Time (video)
Strangelove (video)
Never Let Me Down Again (video)
Behind The Wheel (video)
Personal Jesus (video)
Enjoy The Silence (video)
I Feel You (video)
Walking In My Shoes (video)
In Your Room (video)
Barrel Of A Gun (video)
It's No Good (video)
Only When I Lose Myself (video)
Dream On (video)
I Feel Loved (video)
Enjoy The Silence (video)
Precious (video)
Suffer Well (video)
The Best Of Depeche Mode E.P.K. (video)

Mute ACD MUTE L15
UK Advance promotional CD, released 2006. This is a promotional release, and was not for sale.


Personal Jesus
Just Can't Get Enough
Everything Counts
Enjoy The Silence
Shake The Disease
See You
It's No Good
Strangelove
Suffer Well
Dream On
People Are People
Martyr
Walking In My Shoes
I Feel You
Precious
Master And Servant
New Life
Never Let Me Down Again

Mute PLCD BONG 39
UK Promotional remix CD, released 2006. This is a promotional release, and was not for sale.


Personal Jesus (Boys Noize Rework) [6:53]
Never Let Me Down Again (Digitalism Remix) [4:36]
Everything Counts (Oliver Huntemann & Stephan Bodzin Dub) [6:52]
People Are People (Underground Resistance Remix) [7:20]
Everything Counts (Troy Pierce Unofficial Business Mix) [5:58]
Personal Jesus (Heartthrob Rework 2) [5:13]
The Sinner In Me (Ricardo Villalobos Conclave Remix) [12:59]
Personal Jesus (Timo Maas Remix) [7:05]


US CD RELEASES
Sire / Reprise 44256-2
US CD, released November 14th, 2006. This is a commercial release.


Personal Jesus
Just Can't Get Enough
Everything Counts
Enjoy The Silence
Shake The Disease
See You
It's No Good
Strangelove
Suffer Well
Dream On
People Are People
Martyr
Walking In My Shoes
I Feel You
Precious
Master And Servant
New Life
Never Let Me Down Again

Sire / Reprise / Rhino 43243-2
US Limited CD + DVD Set, released November 14th, 2006. This is a commercial release.


Disc 1 (CD)
Personal Jesus
Just Can't Get Enough
Everything Counts
Enjoy The Silence
Shake The Disease
See You
It's No Good
Strangelove
Suffer Well
Dream On
People Are People
Martyr
Walking In My Shoes
I Feel You
Precious
Master And Servant
New Life
Never Let Me Down Again


Disc 2 (DVD)
Just Can't Get Enough (video)
Everything Counts (video)
People Are People (video)
Master And Servant (video)
Shake The Disease (video)
Stripped (video)
A Question Of Time (video)
Strangelove (video)
Never Let Me Down Again (video)
Behind The Wheel (video)
Personal Jesus (video)
Enjoy The Silence (video)
I Feel You (video)
Walking In My Shoes (video)
In Your Room (video)
Barrel Of A Gun (video)
It's No Good (video)
Only When I Lose Myself (video)
Dream On (video)
I Feel Loved (video)
Enjoy The Silence (video)
Precious (video)
Suffer Well (video)
The Best Of Depeche Mode E.P.K. (video)

US DIGITAL RELEASES
Sire / Reprise / Rhino no number
US Digital deluxe edition, released November 14th, 2006. This is a commercial release.


Personal Jesus
Just Can't Get Enough
Everything Counts
Enjoy The Silence
Shake The Disease
See You
It's No Good
Strangelove
Suffer Well
Dream On
People Are People
Martyr
Walking In My Shoes
I Feel You
Precious
Master And Servant
New Life
Never Let Me Down Again
Personal Jesus (Boyz Noise Rework)
Never Let Me Down Again (Digitalism Remix)
Everything Counts (Oliver Huntemann & Stephan Bodzin Dub)
People Are People (Underground Resistance Remix)
Personal Jesus (Heartthrob Rework 2)

Notes:
A "Best Of" compilation. The highlight is the Limited Edition CD + DVD version, which contained a number of "new to DVD" music videos. Also worth note are the UK promotional "Remixes" compilations. Most of the mixes from these not-for-sale releases saw release via digital outlets like iTunes and 7digital.
The promotional remix compilation was not released in the US. However, most of the tracks appeared via digital downloads.

Select an album by clicking on an album cover below...