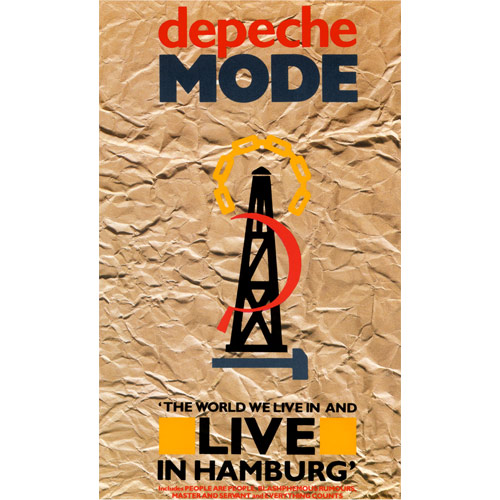 The World We Live In And Live In Hamburg


UK BETA RELEASES
Virgin Video VVD 063
UK Beta tape, released 1985. This is a commercial release.


Something To Do
Two Minute Warning
If You Want
People Are People
Leave In Silence
New Life
Shame
Somebody
Lie To Me
Blasphemous Rumours
Told You So
Master And Servant
Photographic
Everything Counts
See You
Shout
Just Can't Get Enough

UK VHS RELEASES
Virgin Video VVD 063
UK VHS tape, released 1985. This is a commercial release.


Something To Do
Two Minute Warning
If You Want
People Are People
Leave In Silence
New Life
Shame
Somebody
Lie To Me
Blasphemous Rumours
Told You So
Master And Servant
Photographic
Everything Counts
See You
Shout
Just Can't Get Enough

Mute Film MF 021
UK VHS tape, released 1999. This is a commercial release.


Something To Do
Two Minute Warning
If You Want
People Are People
Leave In Silence
New Life
Shame
Somebody
Lie To Me
Blasphemous Rumours
Told You So
Master And Servant
Photographic
Everything Counts
See You
Shout
Just Can't Get Enough


US VHS RELEASES
Sire 38107-3
US VHS tape, released 1985. This is a commercial release.


Something To Do
If You Want
People Are People
Somebody
Lie To Me
Blasphemous Rumours
Told You So
Master And Servant
Photographic
Everything Counts
Just Can't Get Enough

US LASERDISC RELEASES
Sire 38107-6
US Laserdisc, released 1985. This is a commercial release.


Something To Do
If You Want
People Are People
Somebody
Lie To Me
Blasphemous Rumours
Told You So
Master And Servant
Photographic
Everything Counts
Just Can't Get Enough

Notes:
The first home video from Depeche Mode. The beta and VHS UK Virgin pressings had the same catalog number. This title was released on laserdisc in the US and Japan, and has yet to appear on DVD.
The US laserdisc and VHS release are both missing a number of songs. Sire cut "Two Minute Warning", "Leave In Silence", "New Life", "Shame", "See You", "Shout" and "Everything Counts". The Japanese laserdisc was the only "full length" release.

Select a home video by clicking on an home video cover below...