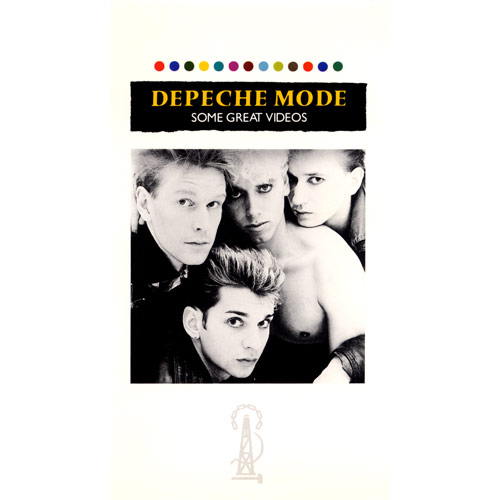 UK VHS RELEASES
Virgin Video VVD 103
UK VHS tape, released . This is a commercial release.


Just Can't Get Enough
Everything Counts
Love In Itself
People Are People
Master And Servant
Blasphemous Rumours
Somebody
Shake The Disease
It's Called A Heart
Photographic (Live, from The World We Live In And Live In Hamburg)

BMG 7432114973-3
UK VHS tape, released . This is a commercial release.


Just Can't Get Enough
Everything Counts
Love In Itself
People Are People
Master And Servant
Blasphemous Rumours
Somebody
Shake The Disease
It's Called A Heart
Photographic (Live, from The World We Live In And Live In Hamburg)


US VHS RELEASES
Sire 38124-3
US VHS tape, released 1986. This is a commercial release.


Just Can't Get Enough
Everything Counts
Love In Itself
People Are People
Master And Servant
Blasphemous Rumours
Somebody
Shake The Disease
It's Called A Heart
Photographic (Live, from The World We Live In And Live In Hamburg)
A Question Of Lust

US LASERDISC RELEASES
Sire 38124-6
US Laserdisc, released 1986. This is a commercial release.


Just Can't Get Enough
Everything Counts
Love In Itself
People Are People
Master And Servant
Blasphemous Rumours
Somebody
Shake The Disease
It's Called A Heart
Photographic (Live, from The World We Live In And Live In Hamburg)
A Question Of Lust

Notes:
This was the band's first music video compilation. Due to the fact that the band don't like a number of their early videos, this release is not a complete document of their early music videos. Missing in action are "The Meaning Of Love", "See You", "Leave In Silence" and "Get The Balance Right". Since there was never a music video for "Photographic", the version on this home video is actually taken from "The World We Live In And Live In Hamburg". The version of "People Are People" is the '12" Version'. The '7" Version' was kept as a promotional-only clip.
The US market added an extra music video to this compilation ("A Question Of Lust"). Also, the US and Japanese releases came in a laserdisc format. This title has not been released on DVD.

Select a home video by clicking on an home video cover below...