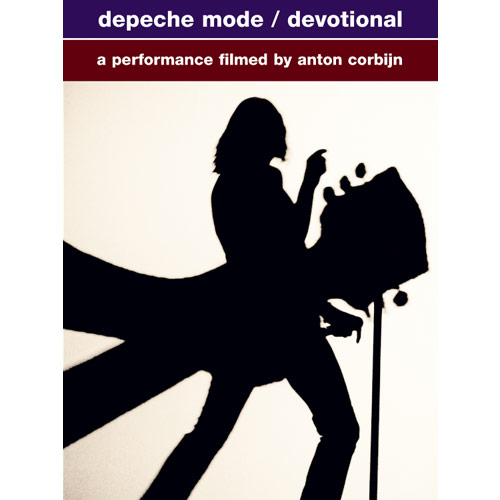 UK VHS RELEASES
Mute Film / BMG Home Video 74321 17213 3
UK VHS tape, released 1993. This is a commercial release.


Higher Love
World In My Eyes
Walking In My Shoes
Behind The Wheel
Stripped
Condemnation
Judas
Mercy In You
I Feel You
Never Let Me Down Again
Rush
In Your Room
Personal Jesus
Enjoy The Silence
Fly On The Windscreen
Everything Counts
Death's Door (end credits)

Mute Film MF 023
UK VHS tape, released 1999. This is a commercial release.


Higher Love
World In My Eyes
Walking In My Shoes
Behind The Wheel
Stripped
Condemnation
Judas
Mercy In You
I Feel You
Never Let Me Down Again
Rush
In Your Room
Personal Jesus
Enjoy The Silence
Fly On The Windscreen
Everything Counts
Death's Door (end credits)

UK LASERDISC RELEASES
Mute Film / BMG Home Video 74321 17213 6
UK Laserdisc, released 1993. This is a commercial release.


Higher Love
World In My Eyes
Walking In My Shoes
Behind The Wheel
Stripped
Condemnation
Judas
Mercy In You
I Feel You
Never Let Me Down Again
Rush
In Your Room
Personal Jesus
Enjoy The Silence
Fly On The Windscreen
Everything Counts
Death's Door (end credits)

UK DVD RELEASES
Mute Film DM DVD 4
UK DVD, released September 20th, 2004. This is a commercial release.


Disc 1
Higher Love
World In My Eyes
Walking In My Shoes
Behind The Wheel
Stripped
Condemnation
Judas
Mercy In You
I Feel You
Never Let Me Down Again
Rush
In Your Room
Personal Jesus
Enjoy The Silence
Fly On The Windscreen
Everything Counts
Death's Door (end credits)
Halo (bonus track)
Policy Of Truth (bonus track)


Disc 2
Walking In My Shoes (tour projection)
Stripped (tour projection)
Condemnation (tour projection)
Judas (tour projection)
I Feel You (tour projection)
Never Let Me Down Again (tour projection)
In Your Room (tour projection)
Enjoy The Silence (tour projection)
I Feel You (music video)
Walking In My Shoes (music video)
Condemnation (Paris Mix - music video)
In Your Room (music video)
One Caress (music video)
Condemnation (Live - music video)
MTV Documentary: Depeche Mode Rockumentary
Monologue by Anton Corbijn
Devotional Tour Programs

Mute Film LDM DVD 4
UK DVD, released August 8th, 2005. This is a commercial release.


Disc 1
Higher Love
World In My Eyes
Walking In My Shoes
Behind The Wheel
Stripped
Condemnation
Judas
Mercy In You
I Feel You
Never Let Me Down Again
Rush
In Your Room
Personal Jesus
Enjoy The Silence
Fly On The Windscreen
Everything Counts
Death's Door (end credits)
Halo (bonus track)
Policy Of Truth (bonus track)


Disc 2
Walking In My Shoes (tour projection)
Stripped (tour projection)
Condemnation (tour projection)
Judas (tour projection)
I Feel You (tour projection)
Never Let Me Down Again (tour projection)
In Your Room (tour projection)
Enjoy The Silence (tour projection)
I Feel You (music video)
Walking In My Shoes (music video)
Condemnation (Paris Mix - music video)
In Your Room (music video)
One Caress (music video)
Condemnation (Live - music video)
MTV Documentary: Depeche Mode Rockumentary
Monologue by Anton Corbijn
Devotional Tour Programs

Mute Film DM DVD 4 NTSC
UK double DVD, released September 20th, 2004. This is a commercial release.


Disc 1
Higher Love
World In My Eyes
Walking In My Shoes
Behind The Wheel
Stripped
Condemnation
Judas
Mercy In You
I Feel You
Never Let Me Down Again
Rush
In Your Room
Personal Jesus
Enjoy The Silence
Fly On The Windscreen
Everything Counts
Death's Door (end credits)
Halo (bonus track)
Policy Of Truth (bonus track)


Disc 2
Walking In My Shoes (tour projection)
Stripped (tour projection)
Condemnation (tour projection)
Judas (tour projection)
I Feel You (tour projection)
Never Let Me Down Again (tour projection)
In Your Room (tour projection)
Enjoy The Silence (tour projection)
I Feel You (music video)
Walking In My Shoes (music video)
Condemnation (Paris Mix - music video)
In Your Room (music video)
One Caress (music video)
Condemnation (Live - music video)
MTV Documentary: Depeche Mode Rockumentary
Monologue by Anton Corbijn
Devotional Tour Programs

Mute Film A DM DVD 4
UK advance double DVD, released August, 2004. This is a promotional release, and was not for sale.


Disc 1
Higher Love
World In My Eyes
Walking In My Shoes
Behind The Wheel
Stripped
Condemnation
Judas
Mercy In You
I Feel You
Never Let Me Down Again
Rush
In Your Room
Personal Jesus
Enjoy The Silence
Fly On The Windscreen
Everything Counts
Death's Door (end credits)
Halo (bonus track)
Policy Of Truth (bonus track)


Disc 2
Walking In My Shoes (tour projection)
Stripped (tour projection)
Condemnation (tour projection)
Judas (tour projection)
I Feel You (tour projection)
Never Let Me Down Again (tour projection)
In Your Room (tour projection)
Enjoy The Silence (tour projection)
I Feel You (music video)
Walking In My Shoes (music video)
Condemnation (Paris Mix - music video)
In Your Room (music video)
One Caress (music video)
Condemnation (Live - music video)
MTV Documentary: Depeche Mode Rockumentary
Monologue by Anton Corbijn
Devotional Tour Programs

UK PLAYSTATION UMD RELEASES
Mute Film DM UMD 4
UK PlayStation Portable UMD, released November 21st, 2005. This is a commercial release.


Higher Love
World In My Eyes
Walking In My Shoes
Behind The Wheel
Stripped
Condemnation
Judas
Mercy In You
I Feel You
Never Let Me Down Again
Rush
In Your Room
Personal Jesus
Enjoy The Silence
Fly On The Windscreen
Everything Counts
Death's Door (end credits)


US VHS RELEASES
Sire / Reprise 38346-3
US VHS tape, released 1993. This is a commercial release.


Higher Love
World In My Eyes
Walking In My Shoes
Behind The Wheel
Stripped
Condemnation
Judas
Mercy In You
I Feel You
Never Let Me Down Again
Rush
In Your Room
Personal Jesus
Enjoy The Silence
Fly On The Windscreen
Everything Counts
Death's Door (end credits)

US LASERDISC RELEASES
Sire / Reprise 38346-6
US Laserdisc, released 1993. This is a commercial release.


Higher Love
World In My Eyes
Walking In My Shoes
Behind The Wheel
Stripped
Condemnation
Judas
Mercy In You
I Feel You
Never Let Me Down Again
Rush
In Your Room
Personal Jesus
Enjoy The Silence
Fly On The Windscreen
Everything Counts
Death's Door (end credits)

US DVD RELEASES
Reprise R2 970372-2
US double DVD, released September 21st, 2004. This is a commercial release.


Disc 1
Higher Love
World In My Eyes
Walking In My Shoes
Behind The Wheel
Stripped
Condemnation
Judas
Mercy In You
I Feel You
Never Let Me Down Again
Rush
In Your Room
Personal Jesus
Enjoy The Silence
Fly On The Windscreen
Everything Counts
Death's Door (end credits)
Halo (bonus track)
Policy Of Truth (bonus track)


Disc 2
Walking In My Shoes (tour projection)
Stripped (tour projection)
Condemnation (tour projection)
Judas (tour projection)
I Feel You (tour projection)
Never Let Me Down Again (tour projection)
In Your Room (tour projection)
Enjoy The Silence (tour projection)
I Feel You (music video)
Walking In My Shoes (music video)
Condemnation (Paris Mix - music video)
In Your Room (music video)
One Caress (music video)
Condemnation (Live - music video)
MTV Documentary: Depeche Mode Rockumentary
Monologue by Anton Corbijn
Devotional Tour Programs

Notes:
This is the concert film from "The Devotional Tour". Of note is the DVD release, which features a second disc filled with extra songs, projections, and other features.
While "Death's Door" was recorded (both audio and video), only the audio is played (out of sequence from the original concert setlist), over the end credits of the film.
The "music video" for the live version of "Condemnation" on the DVD is a different edit of the footage on the main DVD.
The original DVD issue was in a cardboard slipcase. The 2005 reissue is in a simple plastic case.
The original US VHS release removed four tracks ("Behind The Wheel", "Mercy In You", "Fly On The Windscreen" and "Everything Counts").

Select a home video by clicking on an home video cover below...