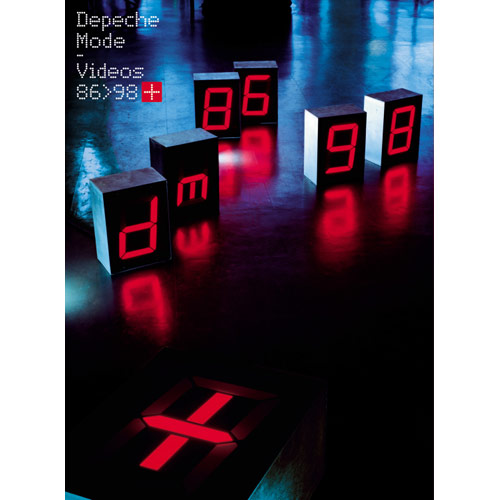 UK VHS RELEASES
Mute MF 042
UK VHS tape, released 2002. This is a commercial release.


Interview
Stripped
A Question Of Lust
A Question Of Time
Strangelove
Never Let Me Down Again
Behind The Wheel
Little 15
Everything Counts (from "101")
Personal Jesus
Enjoy The Silence
Policy Of Truth
World In My Eyes
I Feel You
Walking In My Shoes
Condemnation (Live)
In Your Room
Barrel Of A Gun
It's No Good
Home
Useless
Only When I Lose Myself
A Short Film / The Singles 86>98 Electronic Press Kit

UK DVD RELEASES
Mute DM DVD 2
UK double DVD, released November 25th, 2002. This is a commercial release.


Disc 1
Interview
Stripped
A Question Of Lust
A Question Of Time
Strangelove
Never Let Me Down Again
Behind The Wheel
Little 15
Everything Counts (from "101")
Personal Jesus
Enjoy The Silence
Policy Of Truth
World In My Eyes
I Feel You
Walking In My Shoes
Condemnation (Live)
In Your Room
Barrel Of A Gun
It's No Good
Home
Useless
Only When I Lose Myself
A Short Film / The Singles 86>98 Electronic Press Kit (E.P.K.)


Disc 2
But Not Tonight (music video)
Strangelove '88 (music video)
One Caress (music video)
Condemnation (Paris Mix - music video)
Violator (electronic press kit - e.p.k.)
Songs Of Faith And Devotion (electronic press kit - e.p.k.)
Ultra (electronic press kit - e.p.k.)
Rush (easter egg)

Mute LDM DVD 2
UK double DVD, released August 8th, 2005. This is a commercial release.


Disc 1
Interview
Stripped
A Question Of Lust
A Question Of Time
Strangelove
Never Let Me Down Again
Behind The Wheel
Little 15
Everything Counts (from "101")
Personal Jesus
Enjoy The Silence
Policy Of Truth
World In My Eyes
I Feel You
Walking In My Shoes
Condemnation (Live)
In Your Room
Barrel Of A Gun
It's No Good
Home
Useless
Only When I Lose Myself
A Short Film / The Singles 86>98 Electronic Press Kit (E.P.K.)


Disc 2
But Not Tonight (music video)
Strangelove '88 (music video)
One Caress (music video)
Condemnation (Paris Mix - music video)
Violator (electronic press kit - e.p.k.)
Songs Of Faith And Devotion (electronic press kit - e.p.k.)
Ultra (electronic press kit - e.p.k.)
Rush (easter egg)


US DVD RELEASES
Reprise 38582-2
US double DVD, released November 26th, 2002. This is a commercial release.


Disc 1
Interview
Stripped
A Question Of Lust
A Question Of Time
Strangelove
Never Let Me Down Again
Behind The Wheel
Little 15
Everything Counts (from "101")
Personal Jesus
Enjoy The Silence
Policy Of Truth
World In My Eyes
I Feel You
Walking In My Shoes
Condemnation (Live)
In Your Room
Barrel Of A Gun
It's No Good
Home
Useless
Only When I Lose Myself
A Short Film / The Singles 86>98 Electronic Press Kit (E.P.K.)


Disc 2
But Not Tonight (music video)
Strangelove '88 (music video)
One Caress (music video)
Condemnation (Paris Mix - music video)
Violator (electronic press kit - e.p.k.)
Songs Of Faith And Devotion (electronic press kit - e.p.k.)
Ultra (electronic press kit - e.p.k.)
Rush (easter egg)

Notes:
The replacement for the original The Videos 86 > 98 release. Disc one is identical to the original release. The highlight here is disc two, which featured clips never before available on DVD.
If you explore the second DVD disc, you will find (track 10) the "Rush" easter egg. It is a little (one minute) montage of the various graphics the design firm Intro created for "The Singles" releases, set to a re-edited version of the song "Rush".
The original DVD issue was in a cardboard slipcase. The 2005 reissue is in a simple plastic case.
The US release is identical to the UK release, except the US release is missing the "Rush" easter egg.

Select a home video by clicking on an home video cover below...